Dr. Anand Bhardwaj
Dr. Anand Bhardwaj is one of the most renowned personalities among the world's leading consultants dealing in Vaastu Shastra, Fengshui, Pyramidology, Numerology & Aura Scanning. Born in 1957, he is amongst the seasoned Vaastu advisors with a large experience of almost 41 years in this field. He is an M.A.,MBA.,Ph. D (Sociology),Ph.D.(Vaastu),D.Sc.eq D.Lit. (Vastu). Hence he may be the highest qualified Vastu consultant on the GLOBE. He is the recipient of 132 awards, rewards, appreciations, honors & 24 medals from the ministers, VVIPS & bureaucrats. The above makes him a celebrity who is called by many organisations to inaugurate their celebrations, functions and fetes.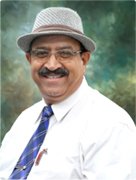 Dr. Anand Bhardwaj is ahead of a common Vastu Shastra consultants of the world. Not only in India & Asian continent & Indian sub-continent, he is known to be one of the senior most Vaastu adviser because he is not dependent upon only traditional approach, but also he uses many advanced energy detectors, Vastu Urja sensors and Vaastu tools, instruments and equipment etc. like Digital & Computerized Energy Scanner, Aura Scanning, Aura Reading, Energizing through Reiki system, Cosmo-telluric Sensor/ Geopathic Stress Gauge, E.M.F. Sensor, digital compass, Lecher Antenna, Gauss Meter, Bio Feedback, GDV Camera Scanner etc. that keeps him technologically updated. Working on Scientific logics & explanations is his strength. He is expert in Vastu corrections without demolition. He is the first to device the remedies for negative waves like Geopathic Stress & negative vertical columns. He is master who expertise on how to check positive and negative energy. He has done a lot of research work on Vastu for South Facing house.

The unmatched qualification, largest experience & advanced knowledge distinguishes him from other traditional Vaastu consultants of the world. Often he addresses a large audience & Vastu consultants in Delhi because Vastu consultant in Delhi are always eager to listen to the world's top most Vastu consultants. Dr. Anand Bhardwaj also give demonstrations on how to check positive & negative energies & Geopathic stress.
His Achievements
Dr. Anand Bhardwaj has an exhaustive index of achievements. Many times he has been awarded, rewarded & honoured by many Vaidic, Social, Media and Cultural Heritage & Organisations with medals, trophies, awards, certificates, Mementoes etc and for his scientific presentations for a large group of publication, media & business houses like Hindustan Times, New Delhi, Institute of Vastu Science, G.K.I, Dew Delhi, MTNL, Lodhi Road, New Delhi, Lion's Club, Ghaziabad, Panch Tatwa, Gobind Puri, New Delhi, Bhawna Kala Mandir, Karol Bagh, New Delhi, All India Brahmin Sabha, Narnaul, IVS, Ghaziabad Chapter, Parichay Times, Daily News Paper, New Delhi, Jana Sanskriti, West Delhi etc.
The awards/ rewards like Best Vaastu Writer Of the Year, Rajdhani Rattan, Janasanskriti Samman, Manas Ratna Award, Samaj Rattan, Rajdhani Gaurav, Saraswati Samman, Rashtriya Sadbhawna Samman etc. received from prominent personalities like Chief Election Commissioner, Government of India, hon'ble G.V.G. Krishnamurty, hon'ble S. Arvinder Singh Lovely, hon'ble Education Minister, Delhi NCT, Sh. Ram Babu Sharma, President, Delhi Pradesh Congress, Honb'le Shri Mangat Ram Singhal, Central Minister for Industry, Labour & Employment, hon'ble Smt. Barkha Singh, Chairperson of Delhi Commission For Women, NCT-Delhi, Hon'ble Ambika Soni, Minister for Tourisms & Culture, Smt. Aarti Mehra, Mayor, Delhi Municipal Corporation, Hon'ble Shri Kapil Sibbal, Minister of Science & Technology.
This is a very small part of an exhaustive index of his achievements. Besides the above, a number of times he has been called to address large audience in different seminars, symposiums, workshops etc. in India & abroad.
His Speciality
Use of the most advanced Vaastu tools/ instruments/ equipments etc. like Digital & Computerised Energy Scanning, Aura Scanning, Cosmo-telluric Sensor/ Geopathic Stress Gauge, E.M.F. Sensor, Digital earth energy reader, digital compass etc. keeps him technologically updated. Working on Scientific logics & explanations is his strength. The unmatched qualification, long experience & advanced knowledge distinguishes him from other traditional Vaastu consultants of India. Dr. Anand Bhardwaj is the founder Director of International Institute of Vaidic Culture (Regd.), New Delhi. He is associated with RIVC & Vaastu Research Centre, New Delhi, World Academy of Spiritual Sciences (WASS) initiated by Sir Ganga Ram Hospital, New Delhi, & a lot of other Vaastu Institutions. He is the guest faculty at IRVC & VRC, New Delhi. He has delivered many lectures on few very special topics like How to check Geopathic stress, Vastu instruments & impacts of south facing plots. He is one of the best Vastu Consultants in Delhi & addressed many times the Vastu Consultants in Gurgaon. He is famous Vastu Consultant in Delhi & listed as the Best Vastu Consultan. He is known to be the Highest Qualified Vastu Consultant & Vastu Expert